Decorative Window Films

When Grey Is Not The Answer
Modern decorative window films provide home and business owners with many more options than traditional window tinting. Our specialty products provide you with the flexibility to achieve the look and tinting benefits you are looking for.
Decorative Window Tinting Options
Below are some of the many options for increasing the style, security and safety of your windows.
Clear Protection - For an unimpeded view of your storefront, a clear anti-UV film will protect your merchandise from the sun's rays which damage merchandise and fixtures. For the homeowner, a clear UV film helps protect furniture and helps maintain a cooler living environment, especially during the summer months.
Frosted Style - For interior or exterior application, frosted window films permit sunlight but provide privacy at home or in conference rooms.
Total Privacy - When complete visual blockage is desired, our whiteout and blackout window films shield people and products from prying eyes.
In addition, our commercial window tinting offers shades of blue, green and gold. For a free estimate on your window tinting needs in the Southern California region, please fill out the form on the right and we will respond to your request as soon as possible.
Contact Us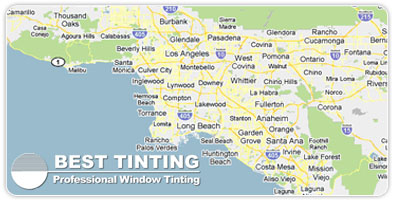 Los Angeles Window Tinting